There's a rumour around the Croisette that Martin Scorsese is saving cinema. Following his stately epic The Irishman, Scorsese returns with another unapologetically long and sprawling story that proves that, whatever benchmark is sought and set on the big screen, he remains the absolute standard at the height of filmmaking; more than deserving of the moving ovation we witnessed at last night's global premier.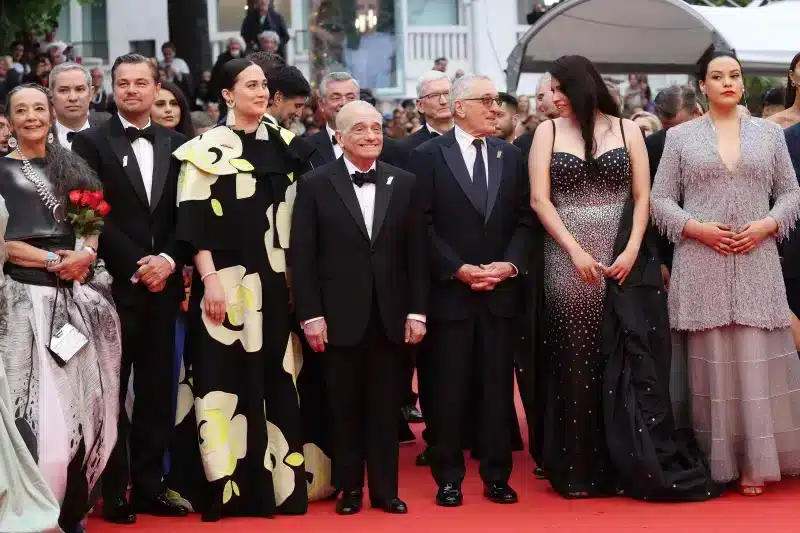 An adaptation of David Grann's 2017 investigative true crime story, Killers of the Flower Moon uncovers a series of murders in the early 1920s of wealthy native Osage people in Oklahoma. It is a horrific Western tale, met with surprising moments of humour, sudden murder, and the best of the Western Gothic tradition in which morality and horror find themselves incarnated in the magnetic cast: De Niro is the Devil in a suit. Di Caprio's ironically-named Ernest embodies a lethal nativity, and is sometimes reminiscent of Lenny in Of Mice and Men, a pitiful and credulous figure. Gladstone's Osage Mollie is a virtuous and tragic figure. Jessie Plemons shines as old-style lawman Tom White. Everyone has a role to play in the disasters that unfold, and they're given ample time to stretch the boundaries of their own intentions in a way that feels more typical of a stage production and hearty novel than what we are used to seeing recently on-screen. Killers needs that three-and-a-half hour runtime to breathe, and in its second act, where the film really gets into its own, that cautious breath crescendos into a gasp of terrifying despair. It also presents a question that resonates in the America of the present: How far are people willing to go to reap the comely poison that bleeds from American Capitalism? And what are the costs of winning when it comes to the human soul?
Scorsese, ever the master, navigates these questions with complete control. Not a line is out of step with the rhythm of the film's pace or haunting Robbie Robertson score, all carried by a career best performance from Di Caprio, opposite the ethereal Gladstone, who announces herself as a serious talent—particularly by the film's close. Indeed, there are times when the film's pace meanders dauntingly like a river, but the banks never seem too far apart; and mainstream audiences will be as gripped as the veteran journalists who attended last night's premier. It says a lot for a film that challenges just how long the cinema experience ought to be in an age of snappy content. If as triumphantly crafted as Killers of the Flower Moon, Scorsese proves that the longer the movie, the longer its effects will remain with the viewer once the closing credits are called to an end. There is an urgency to his message, a stately grandeur in its sweep and scale (as though harkening to a Hollywood of epic cinema that no longer exists) and there is a purpose in his narrative in which, once the last thread is unspooled, the result is a work that only a master—an artisan of his craft—could have ever conceived. With Killers of the Flower Moon, arguably the best film he has made this century and an instant classic of the literary-on-film, we're lucky that he still works to keep the standards of cinema at the heights they deserve to be.