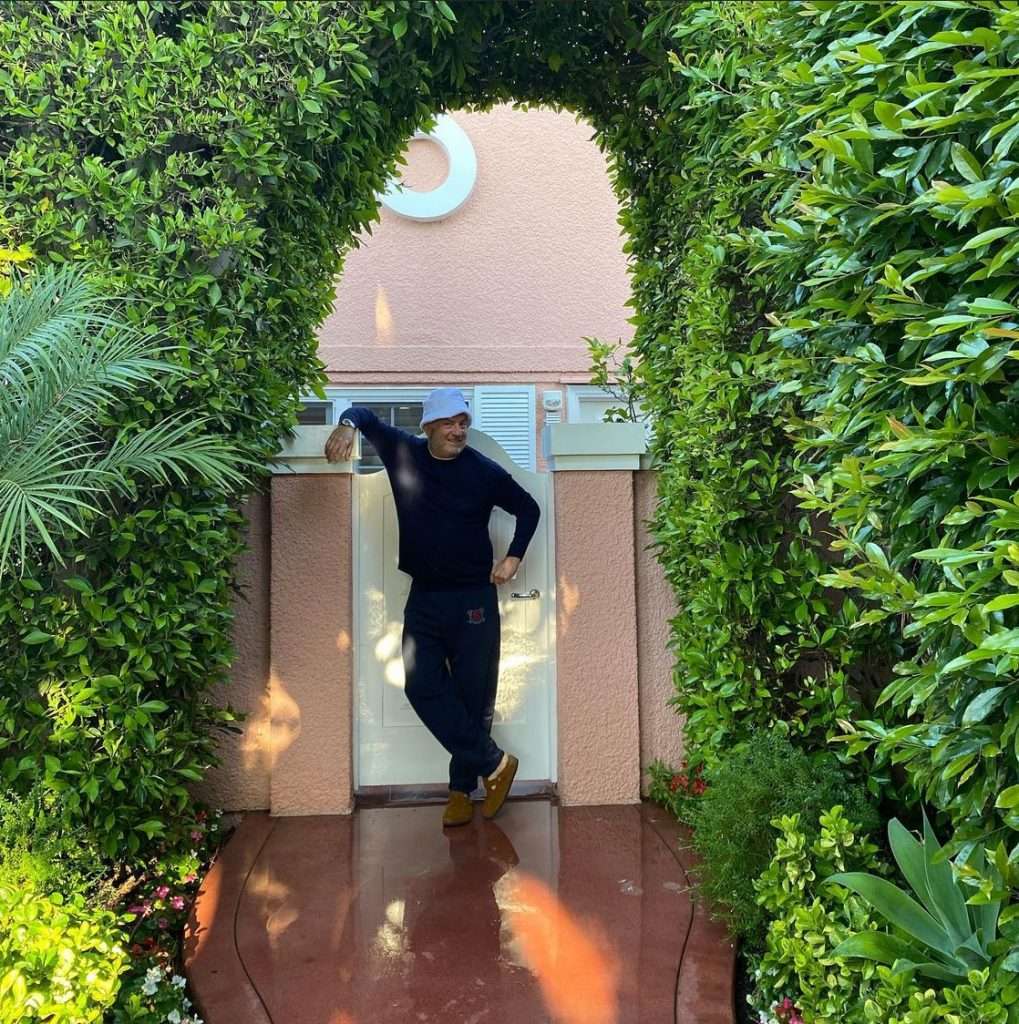 Dear Reader,
Welcome to our first issue of 'A Rabbit's Foot', home for lovers of film, art, and culture. It has been quite a few years since years since I published 'FINCH'S QUARTERLY', the slightly eccentric newspaper brilliantly edited by Nick Foulkes, and art directed by Tristram Fetherstonehaugh, both of whom join me here in this new publication to appear in print and online. Tristram continues his role as creative director and Nick writes about Jean Gabin, the legendary French actor.
During those years between publishing ventures, I dreamed of putting together a magazine-book that would talk of film art and culture from an insider's point of view that not only immersed itself in the world of filmmaking, but also celebrated the impact of motion pictures in the larger diaspora.
Given my long career making films and working with actors and directors, it felt like a natural step for me to edit the first edition of A RABBIT'S FOOT myself, and thanks to the tireless work and patience of my Deputy Chris Cotonou, we have managed to pull the issue together for a Cannes Film Festival launch. I apologise in advance for the home-made, 'fatto in casa', feel of the book, but we have learned as we have gone along, and I rather like the spontaneity of the journey we have embarked on. Tristram's even temperament and can-do attitude combined with his profound artistic sensibility have yet again resulted in what he calls modestly, "a good thing"… We thank Ian Thorley who publishes, amongst other things, The Week Fashion Edition, for his advice, guidance and patience! Special thanks also goes to Ralph Boon, who is building our soon to be seen digital platform (watch this space). And without my wonderful, creative assistant Anna Pierce, none of this would be possible. Her diligence – and more importantly her Irish charm – has made wonders of the process. I tip my hat to and hope to follow in the paths of publications like Cahiers Du Cinéma, and Jonas Mekas' Film Culture, which offered alternative insights into films and filmmaking, and attracted serious authors to their magazines often heralding obscure films and detailing in minutia all aspects of making movies. These publications particularly celebrated the nouvelle vague – the avant-garde, and the independent art film house culture. In this we will follow suit.
As you will discover, A RABBIT'S FOOT aims to celebrate all film, but also hopes to broaden the canvas to really explore and discuss the wider cultural implications of the power of film to influence popular conversation. From documentary to short film, and films made by artists, painters and sculptors, we will explore the form. That Jean Cocteau and Andy Warhol, Tracey Emin and William Kentridge, made avant garde films, reminds us that straightforward storytelling isn't the only path for moving images to have emotional impact, and to change popular culture and pre-conceptions. To enlighten our thinking.
Feature films, though, are a very specific art form, which sadly (like magazines) are struggling for their lives in the modern world. Very different from television and streamed series, the 90 minute, or two hours plus format, challenges screenwriters and film directors often from every corner of the world, to tell their stories in innovative and ever evolving ways. Time and again the common language of film story telling must reinvent narrative structure to capture the audience's interest. Every year there are films that break all the rules and surprise us whether it is this year's Norwegian film The Worst Person In the World, by Joachim Trier, or France's Audrey Diwan's The Happening or Japan's Drive My Car by Ryusuke Hamaguchi.
In cinema, surprises come out of the most unlikely sources. For example, Coda by Sian Heder, the remake of a small French film, regularly finds the audiences, which incidentally we are forever being told don't exist. It bodes well for those of us who love movies that in the case of these films, the public watched them both at home and at the cinema. Feature films demand time and concentration, and in the modern world we all struggle with both of these finite things. A bi-product of the internet and Social Media is that, inadvertently, we are trained, even indoctrinated to have a shorter attention span. Studies released this month in Southern California show that children regularly concentrate on up to six to eight things at once: Johann Hari talks of this in his new book Stolen Focus.
…Thus, regardless of our age, we are unknowingly being brain trained to take in stories instantly, whilst probably doing several things at the same time. Sadly, it seems that we are being pushed to judge nearly everything and everybody too quickly. Nuances are lost. It seems there is only time for the fast track, for black and white opinions, and for clips. This is not what long form film narrative allows. Filmmakers demand your attention. The feature film requires time and focus. It could be argued then that humans, as they evolve, retain information and entertainment in shorter and shorter bursts, and that the old forms of reading, the theatre and film are not long to survive. In my career, I have heard much talk like this about the demise of live theatre particularly or live music concerts. In fact, nothing of the kind has happened. The theatre has flourished in adversity. It has found its public. And live music has never been better attended. Film, though besieged, will do the same. We have chosen to focus on French cinema in this our first issue as France has a special place in the history of film. The Lumière brothers, Auguste and Louis, can after all claim to have invented the Cinematograph – so where better place to start than here?
Cinema has always been regarded as an art form by the French state. Protected and admired and supported by the public who enjoy both traditional 'summer' comedies, and the more testing work of auteur filmmakers like Claire Denis, Leos Carax, Jacques Audiard, Julia Ducournau and others.
The result of state support, both good and bad, has led to a film industry and filmmakers who continue to deliver independent and powerful work that is reflective of French culture, and in which French artists in cinema thrive. In this issue we are privileged to have attracted contributors including the outstanding British film writer Jason Solomons, who interviews both Juliette Binoche and Isabelle Huppert, two of the greatest actresses of our time. Jason has written extensively for The Observer and hosted shows for BBC radio and Sky Arts. His remarkable film knowledge is sought after globally.
The author Natasha A Fraser interviews Isabelle Adjani in a truly insightful and confessional piece from this iconic actress who grants few interviews. Natasha's books include the fantastic must-read biography of Sam Spiegel, and After Andy, about her youthful adventures with Warhol. Academy Award winning producer Jeremy Thomas writes about Cannes, as does the festival director Thierry Frémaux, who has continued to protect and grow this festival. Iconic film directors Wes Anderson and Whit Stillman, both Francophiles, talk of working and living in France and their own films. We are fortunate to have the great actor Matthew Modine writing for us on Stanley Kubrick's first world war epic, the masterpiece Paths of Glory. Matthew brings a unique point of view to this piece as he starred in Kubrick's later war film Full Metal Jacket.
The French filmmaker Nicolas Saada writes most eloquently about the master Francois Truffaut, and Ginette Vincendeau, professor of film at King's College London, writes on Jean Renoir. Both these contributors raise the bar in their insightful writing and articulation. Julien Planté, our contributing editor, who worked with me on our 2019 publication and event 'The Power Of Film', brings his great knowledge of French film and culture to A RABBIT'S FOOT with pieces on Belmondo and rising star Makita Samba. Julien was the creative director of Ciné Moi, the French film channel.
The Illustrations and photographs in this first issue include work by the legendary former VANITY FAIR photographer Jonathan Becker, and by Jean Pigozzi – 'King of the Cap' – whose intimate photographs bring us to his subjects in the most playful and insightful way. Special thanks to Magnum for supplying us a sample of their catalogue, and to Brigitte Lacombe, the brilliant French photographer, who shared photographs from her archive of the Cannes Film Festival in 1975. She writes on Donald Sutherland and Dennis Hopper. We are honoured to include pieces by directors Audrey Diwan and Valeria Bruni-Tedeschi. Our style and photo editor Fatima Khan who curated the Finch & Partners 'Art of Behind The Scenes' photographic collection has curated a wonderful collection of images. Graydon Carter, the editor of editors and my friend of many years, brings his own special drawings to enlighten our understanding of French cinema!
My dear friend Dr Barbara Sturm joins our merry crew to enlighten us on all aspects of
wellness and her insight into the French way. Barbara is a business leader, a doctor and a force of nature who has inspired millions with her brand. She has a large following and I thought it appropriate to have her insight and guidance to living well and surviving the glare of the camera.
We intend to publish three 'bookazines' a year, summer, spring and winter which should fit nicely into your bag or jacket pocket, and hopefully bring you some reading pleasure, and like the Rabbit's Foot of old: some good luck too. There will of course be a website where the printed publication will be available to buy. We will update the site on the first Tuesday of each month with a focus on current films to see, and culturally relevant happenings including screenings, film festivals, art openings, and once in a while a party or concert you might want to head to…
Over the next quarter we will build out the website to include a film club with screenings and talks with directors, actors and artists only available to subscribers. We will offer the first on-line issue of 'A RABBIT'S FOOT', free of charge provided you log in to the site and become part of our Rabbit's warren, but after issue one we must have an active pay wall. As they say, all good things worth paying for have a price, or something like that…
We hope that after you read 'A RABBIT'S FOOT', you will want to be part of this creative journey of ours. The effort required to put together this issue in the aftermath of a pandemic is not unworthy of comment as it has taken enormous ingenuity, energy and love, and I thank our amazing team for their passion and diligence, and of course sense of humour.
North American cinema has often been applauded at Cannes with classics including Apocalypse Now, The Deerhunter, and Pulp Fiction, Joker finding great acclaim on the Croisette. This year James Gray's Armageddon Time joins the festival lineup as does David Cronenberg's Crimes of The Future. I worked with Cronenberg on Spider and I'm looking forward to seeing him again at the festival.
Special thanks to Jay Penske, Sir Christopher Hampton, Florian Zeller, Sara-Ella Ozbek, Elsa Zylberstein, Virginie Mouzat, Martine and Prosper Assouline, Efe Cakarel, Damian Harris, Peregrine Kitchener-Fellowes, Alison Boshoff, and Damian Elwes.
Finally, I have to spend a few moments thanking my friends at Chanel for their support. Not only here with their advertising but also over the last 25 years in which we have collaborated in our mutual love of cinema. Coco Chanel was passionate about film as was Karl Lagerfeld who I met on a plane some 36 years ago and convinced to give me the costumes for my second film which starred Sharon Stone. Over these last decades we have co-hosted my annual 'Night Before' dinners at both the Oscars and Baftas. Thank you Caroline, Jo, Elsa, Rebecca, Angelique, of course Coco. This year, Chanel offered their support to the restoration of La mamain et la putain. They remain as committed to nurturing new artists and the creative world of cinema as ever.
– Charles