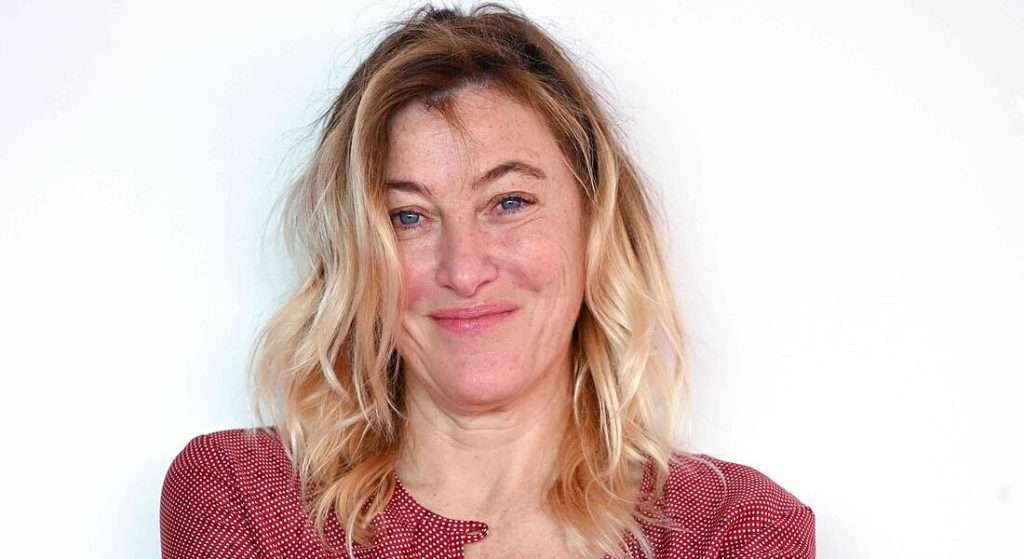 On Valeria Bruni-Tedeschi, Charlotte Gainsbourg once said, "She's got a wonderful persona—she's very complex as a person—troubled—and not shy—yes, she does have a shyness, but there's something eccentric about her that she doesn't control, and that I find quite amazing to watch."
"Well, that's sweet," Valeria tells me over the phone, as I read this quote back to her. Listening to Valeria speak, reminiscing over good or sad times, laughing, unsure, or completely aware of her emotions, one gets the impression Gainsbourg was on the money.
Valeria's latest picture, Les Amandiers, made the Official Selection at Cannes. Set in the eighties, at her drama school under the legendary Patrice Chéreau, it is a meaningful reflection on the past, depicting her memories of that time, the romances, tragedies, and the spirit of youth. "I'm in the mixing stages now," she says. "You never know how it is going to go when making a film." In anticipation for her new film, the actress and director shares her process, and invites us to learn a little more about Valeria Bruni-Tedeschi.
CC: Les Amandiers is set at the school you attended under Patrice Chéreau. How much of the film is fiction?
VB-T: It is fiction, but it evokes my memories of the drama school when I was twenty-years-old, the start of my adult life. The film is set in the 1980s, and [it recalls] what it was like back then to be an actor, the desire to perform and be young. But it is also about a darker side: the drugs, heroin, cocaine, diseases that were at their height at the time. It is told from the viewpoint of a girl, who is sort of like me. It's an ensemble film, so really, it is about this young group of actors.
CC: Why look back now?
VB-T: I used to tell stories of those days, and a friend kept telling me, "You know, you should really make a movie about these experiences." After two years of saying this, I decided she was right. I speak often about my life in those times because it is an important part of me. There was an important love. An important mentor, Chéreau… I feel like the school is in my body and my mind. In some ways, I am this school.
CC: Can you tell me what Chéreau was like?
VB-T: When he walked into a room, the energy was different. You could just feel his presence. He had a certain walk, a rhythm in the way he spoke, that made even the air change. But the film isn't really about him. It isn't a biopic. Louis Garrel, who plays Chéreau, isn't portraying him to be exactly as he was – it's more of a memory, my memory. The perception, or mythication, we had of Chéreau at his school, as his students, instead of who he really was.
CC: Is looking back painful?
VB-T: Making this film gives me joy. Every night, I return home with the happiness that I'm creating something. There are painful sides to the story, but what is most difficult is the process of putting together a movie, and yet it also gives me peace. Pain can be beautiful, too. It's like being an artisan. I'm in the editing and mixing stages now. If the feeling isn't good tonight, tomorrow I start again. I feel very settled working this way. It's like giving birth: When I make a film, I forget the pain of the previous one. Only finishing it can put me at ease.
CC: Do you watch any films, or think of any directors, before approaching a film?
VB-T: I showed the cast a projection of Panic in Needle Park. It's important, as it depicts life under drugs, but it is more hopeless than my film, where there is a bright desire, a passion for acting. Also, Opening Night – that portrayal of the freedom to act – [is] something I wanted the young cast to feel when performing in Les Amandiers. Love stories were important for inspiration…and also Chekhov. In the school, they do a Chekhov play. I then showed them a documentary of the school that was released around that time. Not because I wanted them to behave the same as us, but to feel our energy. Finally, we did a month of rehearsals, much like in the theatre.
CC: What reaction do you want people to feel watching your story?
VB-T: My dream is for viewers to love the young characters, to see their humanity, feel that they know them – to be touched by them. It's a movie about actors, and of a personal period in my life. I would also be so happy to see my young cast find more work after the experience. Perhaps they will take what they learned on set. This is the most important thing.
CC: You're sort of like their mentor?
VB-T: Not really. But when we went through the casting process, we had the sense we were auditioning for a theatre school. It was very long, and we had many great French actors come in to try for their part. I like this, though – the actors begin with an exciting sense they were joining a theatre company. As the director, I just wanted to see them for who they are.
CC: You once said Chéreau was the first person to see you as you wanted to be seen.
VB-T: He made me feel… accueil? Welcome, I think it is in English. As an actor, to be seen, truly seen, is a special moment. In society, we're not completely open. My default, true nature was welcome under Chéreau. But it's not only the person behind the camera, the camera itself is alive, too. It is somebody who loves you, and if the director also feels the same way, that mix is a special feeling. Like a mask can drop. But this is just one step. There is another step: acting in front of the camera. It's almost an erotic, intimate relationship.
CC: Does the camera see your weakness, or timidity, too?
VB-T: I think being timid is like honey for the camera. It's good to be timid, confused or shy…The only thing the camera asks is for you to be true. It makes me grateful. It feels like a relief. And in life, I don't think we have the freedom to always be ourselves. In front of a camera, I am free. It is like being on another planet. I wanted to communicate this to the actors. I want mistakes. I want honesty. Give me all of you!
CC: Your personality, joie-de-vivre, in real life comes across on some of the characters you portray on screen, like Anaïs in Love. Are you aware of this?
VB-T: There is an overlap, of course. But there are things you do not see, too. Like many people, there's a war, a battle inside me, of melancholy, pessimism, and courage. I try to seek meaning, in life, in people's love, and in the movies I am doing. But I will always fight. Am I an optimist? No, but I try to be. I want moments of lightness and simplicity. Humour is oxygen to me, I really need it. Situations make me laugh, but also human misery, because it's important to laugh at ourselves and each other. My brother makes fun of me, but it's OK; I know this is his love language.
CC: There's a great line in Castle in Italy where a nun asks you about faith. Where do you find it in your work or daily life?
VB-T: I find faith in simple, brief moments. I'm not religious, but sometimes, I'll walk into a church and try to pray. I don't feel anything, of course, but if there is a hymn, we all come together and I have a brief feeling of faith. It's more about sharing that moment, the energy, with other people. I live for these moments: watching the sky, laughing with friends or hugging someone. I never stop seeking them. Meditation helps, but it's usually only for a minute. A small moment of presence and peace in life. Sometimes, this is enough.
CC: Is there a gift given to you that carries a lot of meaning?
VB-T: It isn't an object, but I will always carry my father's stare with me. The way he looked at me, I'll never forget. It made me feel powerful, strong, gave me force, and a sense I could do anything. It is like the director…I felt I was being truly seen. He had a beautiful stare.