Leos Carax and Tragic Love
by Chris Cotonou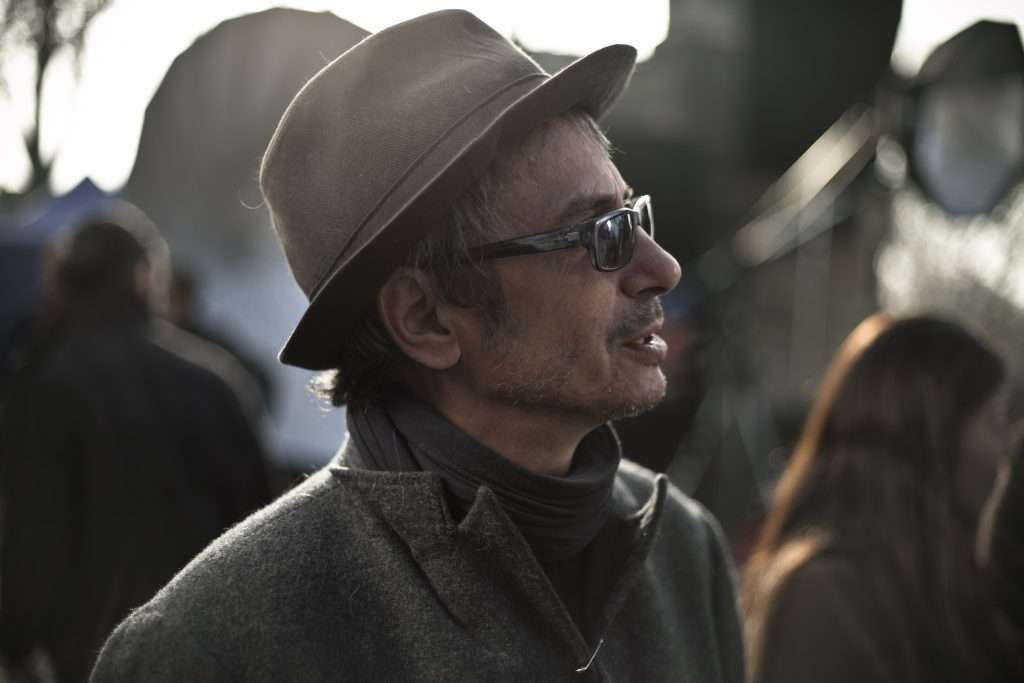 Although a household name in French cinema, an award-darling, and a favourite of both the critics and audiences, Leos Carax's body of work is rather unprolific. Since 1984's Boy Meets Girl the Parisian-born director has made only six films, with his latest being 2021's Annette. But with each feature is the mark of a true auteur: a common theme, or a thread that allows his oeuvre to have continuity; perhaps even some insight into the man himself. Between the strangeness and surreality of a Leos Carax picture, there is love: deep yearning, violent heartbreak, and emotional deaths.
Is Leos Carax a romantic filmmaker? His interest in the various themes of being in love, or falling out of it, certainly makes the case. Originally heralded as a part of the cinéma du look movement, he shares a focus on intimacy and abstract filmmaking with his predecessors from the Nouvelle Vague era. The tightly controlled-aesthetics of Boy Meets Girl betrays Godard's influence, and the vague incorporation of sci-fi and noir in Mauvais Sang remind one of Alphaville. Much like Godard's earlier work (notably Pierrot le Fou) unrequited, unorthodox love finds life in the bizarre universes he creates, and unravels in the most unexpected, sometimes violent, ways. His Lovers on the Bridge is a good example of this. The epic folly of a newly-constructed fake Pont Neuf gives a ridiculous tone to Lavant and Binoche's homeless lovers. Their physical illnesses (Binoche's Michele is half-blind) and struggling mental health create a potent but toxic love story that is also strangely affirming – most felt in that Bastille Day fireworks scene. There is beauty in the whimsical nature of their being together; even if it means some suffering.
While Carax has explored love in other features – see Pola X's dangerous taboo to the tragedy of Eva in Holy Motors – it is his pop-opera Annette that addresses it with such panache. The film is adventurous and heartfelt in the most unexpected ways, as a comedian (Adam Driver) and soprano (Marion Cotillard) cause a media frenzy because of their celebrity marriage. This is Carax's cynical take on modern love, the barrage of online noise (seen in hilarious 'Showbizz News' bites), and how we adapt or perform to these expectations. Together, the couple produce Annette, a likelike puppet who embodies their union.
The film has been considered in some quarters as a mea culpa. It's interesting to note the death of his partner Yekaterina in 2011, when his daughter was just six. Is Annette, as certain critics have asked, to be read almost literally, as Carax wrestling with his demons? Perhaps. But even without such a tragedy in his life, the auteur has always understood the way love really feels at its most potent; and the ensuing bitter emotions are observed in a dreamscape of unreality and nostalgia that he often invites us to reflect on in our own lives.
Jacques Audiard and Love for the Outcast
by Sara-Ella Ozbek
When first-time director Jacques Audiard stepped onto the stage at Paris' Palais des Congrès in 1995 to collect a César Award, there was no way he could have foreseen that it would be the first of four to his name. Nor could he have known that the characteristics of his magnificently visual directorial debut Regarde les Hommes Tomber (1994), would come to be known as his own distinctive cinematic brand.
Despite being the son of a screenwriter, Audiard had not always envisioned a future as a filmmaker. He studied literature and philosophy at the Sorbonne but dropped out to take a course in film-editing. His below-the-line career began in the seventies, during which he most notably worked as an editor on Polanski's The Tenant (1976). But, with an innate voice and vision like his, it was inevitable that during this post-revolutionary phase for French film, he would soon segue above-the-line. Before directing, he penned numerous screenplays, the most well-known being Le Professionel (1985).
Since receiving his inaugural César, Audiard has directed a total of nine feature films, numerous shorts and several episodes of television drama The Bureau. His early work was firmly rooted in the neo-noir, but it was Un Prophète (2009), a swerve from the genre, that put him on the global awards circuit and became his most renowned film to date. A gangster drama, starring Tahar Rahim as a young Muslim convict who falls under the govern of Corsican mobsters in a French prison, critics compared the title to Francis Ford Coppola's The Godfather (1972) and Brian De Palma's Scarface (1983). But it is perhaps the nihilistically drawn parallel of the story world to modern capitalist society that struck a chord so deep with audiences. It must also be said that the film played a large part in drawing French cinema out of the bourgeois world it had for so long inhabited, which had long been a goal of Audiard's.
Un Prophète was the start of a new cinematic era for Audiard, becoming known as something of a social film noir. His next two films were similarly categorised. Rust and Bone (2012) is a dark love story, starring Matthias Schoenaerts and Marion Cotillard, the latter of whom plays a whale trainer who loses both her legs, something that was achieved by a very un-Audiard feature of filmmaking: the use of CGI. Dheepan (2015) tells the story of a Tamil refugee struggling on a Parisian housing estate and is the film that earned Audiard the Palme d'Or Award at the Cannes Film Festival.
Subsequently, he changed direction once again, making his English language debut with the darkly comic Western drama The Sisters Brothers (2018), an adaptation of Patrick DeWitt's much-loved novel. But perhaps the largest deviation from his early works has been his most recent film Paris, 13th District (2021), a portrayal of modern relationships that was adapted from American cartoonist Adrian Tomine's graphic novel. Filmed in black and white, whilst cleverly depicting new-world dating as anything but, it is a take on the French dialogue-forward romantic dramas like Eric Roehmer's My Night at Maud's (1969), with the intrusion of the digital world.
It cannot be disputed that Audiard is one of the most internationally renowned French filmmakers of our time. Perhaps it's something to do with his signature look, which resembles that of a Parisian detective, complete with a uniform fedora hat. But, more likely, it is his success in staying true to the arthouse film, whilst managing to connect with a much broader demographic of audiences that has made him such a defining figure in the latest era of French cinema. No matter the genre, Audiard's films have always spoken to the outcast, something that everyone – on some level – has felt at one stage in their life.
Arnaud Desplechin and Selfish Love
Luke Georgiades
One of the post-French New Wave's most significant filmmakers, Arnaud Desplechin, is once again returning to Cannes' In Competition strand this year with his latest offering, Brother and Sister. Led by Marrion Catillard and Melvil Poupard, it tells the story of two siblings who, following the death of their parents, are forced to reconcile after a 20-year estrangement. This new feature promises a return to the complex emotional trappings that made Desplechin's work so fascinating in the first place. But in an industry saturated with love-stories, what makes Desplechin's tales of domestic and romantic entanglements stand out?
In some of the greatest on-screen romances ever told – I'm of course referring to Hallmark Christmas movies, hot-pink Hollywood rom-coms and irresistibly fluffy K-Dramas – "love" has enjoyed synonymy with "selflessness". Relentlessly saccharine, they present an idealistic love that has no doubt incepted a few unrealistic ideas into the most cynical of us, let alone the host of doe-eye romantics such media is geared towards. Desplechin has a different idea. In comparison, his brand of love is like diving into glacial waters – a shock to the system.
Desplechin's love is dominated by ego, insecurity, and spite; those at the mercy of one another, as opposed to equal offerings of vulnerability. In My Sex Life…or How I Got Into An Argument, his most epic fable of weaponised love, narcissistic Paul drifts in and out of the lives of various women, some of whom are in committed relationships with his friends. As he bounces between affairs, each one leaving as empty a hole as the one before, Paul desperately searches for a reason to deter any growth that might come from confronting his vanity. His relationship with Sylvia is the most telling. She is aware of Paul's insecurities and takes joy in exploiting them. Paul responds with equal manipulation. As Desplechin narrates, they both love and despise the other for the same reasons. They both at once see one another and are operating entirely out of self-interest. It becomes clear that as unlikeable as Paul and several of these characters are, Desplechin's intention isn't for them to be hated, but pitied, like the flawed characters in a Greek Tragedy. At the end of the film, Sylvia unknowingly gives Paul the justification he's been searching for, and he begins again, having learnt nothing. The hope, though, is that we will.
Desplechin's hurricane of love isn't limited to the romantic, but the familial too. If those in My Sex Life are reminiscent of mortals in Greek tragedies, the dysfunctional Vuillard family at the heart of A Christmas Tale most closely resemble Olympian Gods. Like the Greek Immortals, the love the Vuillards have for each other is present, but prickly and complex. Genuine affection is interwoven with bitterness and hostility, long-held grudges and long-withheld desires. The emotions between the family members clash and contradict each other. Catherine Deneuve's matriarch and her exiled son bond by swapping thorny insults as they smoke together on a garden bench (Succession fans might find this scene familiar). The resentment still festers, yet a reluctant affection remains. In a later scene, another son, Ivan, finds his wife in bed with his cousin. He seems unsurprised, even amused, exchanging a look of understanding with his spouse before making leave. In this sense, Desplechin's approach to love, though bleak, is unconventionally sound in empathy.
While cynical, Desplechin's interpretation of love as a weapon exposes the illusion of utopian love that's in itself often irresponsibly fed to us. Though he presents a colder reality that falls far on the other end of the spectrum, it's not one entirely without compassion. One hopes that in the terrifying on-screen reflection of our callousness-in-love, there's potential for us as viewers to find balance.