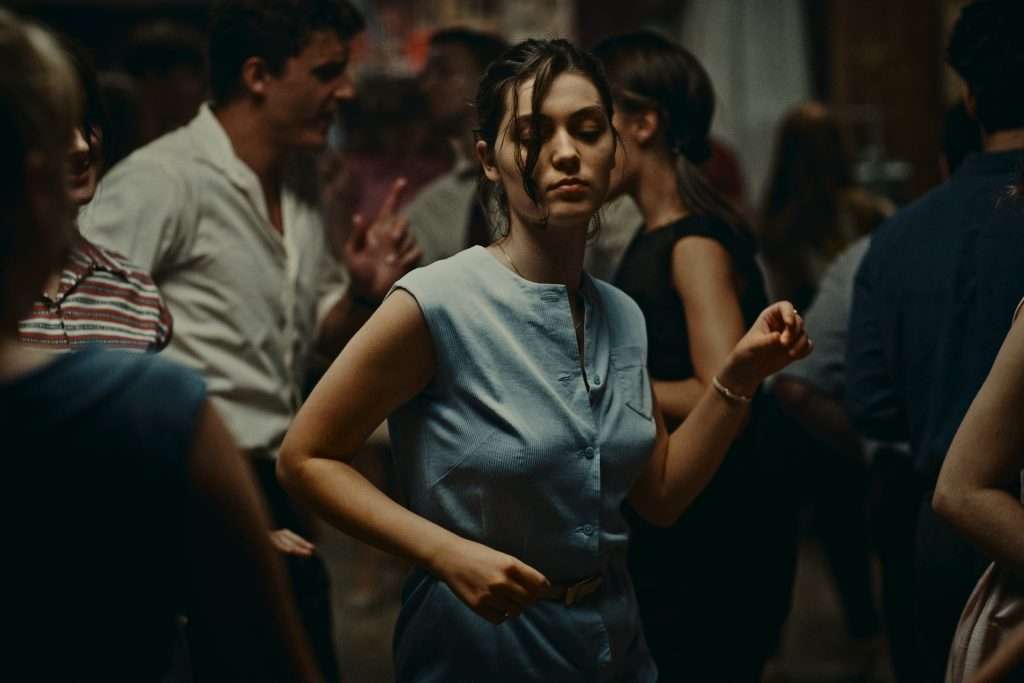 It's 1963, and pregnant student Anne carries the weight of the world on her shoulders. Before an impromptu one-night-stand, we watch her being free: swaying to pop music, having fleeting conversations with friends, and attending her provincial school. It only takes one night – one sexual encounter – for this freedom to crumble, as her desire for an abortion is met with contempt and alienation from friends and family. And, because it is 1963, there's the threat of imprisonment.
As the central character in Audrey Diwan's L'événement, Anne begins a slow path to destruction. You can feel each excruciating moment. In every wince, every sigh of despair, and every eruption of terrified rage, Anne warrants our deepest empathy. This is almost entirely because of Anamaria Vartolomei, in a performance that won her the Most Promising Actress award at the Césars. The 22-year-old plays Anne with an attentive compassion, and a maturity to straddle a torrent of emotions – be that her resilience and courage, or her great pain. Because Diwan avoids falling too hard into the tropes of a period setting, Anne appears to us as an almost contemporary figure. We do not see a girl from over half-a-century ago, but someone we might cross in the street today, and Vartolomei's wide-eyed, understated approach to the character allows her misfortune to be felt in this somewhat modern light. It is a performance deserving of deeper analysis.
Over a series of long emails with A Rabbit's Foot, Vartolomei gets personal on the character that is set to shape her career forever – an insight into the emergence of an undeniable young talent.
CC: L'événement is based on a true story. What personal experiences or memories did you channel for the role?
AV: When I first read the book, I realised my ignorance towards a subject that is still taboo and shrouded in silence. I was angry at myself, of the lack of knowledge I had, and for the injustice that many women who want to abort face, especially in countries that still don't allow them to. In 2022…I fed myself with this anger. And these emotions helped me to defend my character with a new determination and ambition. I tried to do it in the fairest way I could – to give justice to all the other survivors.
CC: One of the main themes of the film is Anne's fight for freedom – of choice, of body, and life itself. How did you incorporate your own sense of free will and independence in the character?
AV: I think the character gave me more than I gave her. Playing Anne helped me to feel more free, confident, brave, and independent. I trust myself more than I used to after shooting L'événement. I feel that, now, I face the world with more courage than before, and I believe that's because a part of her still lives on in me. I started the film as a young lady, and by the end of it I became a woman.
CC: In the film, some characters perceive female sexual desire as a taboo. Why does this still feel like such a contemporary issue when the film is set in the sixties?
AV: At that time, the value of a girl was defined by her behaviour. You had to be careful who you talked to and how you talked to them… Every single move was scrutinised, analysed and judged. I like that the movie shows the evolution of sexual discovery. At first, we hear the girls speaking about it, then we see a picture, and after that a girl mimics masturbation. Finally, when my character is ready, she handles her own desire and decides to have sex with a guy. It also shows how sex for women doesn't always involve feelings, which is very contemporary. Today, I feel girls have more freedom to express their desires and to live their sexualities as they choose.
CC: The men in the film are apathetic, opportunistic in Anne's struggles. What do you think people like myself ought to come away with after watching this story?
AV: I think the strength of our movie is that it doesn't give you answers but it asks more questions. One of the goals Audrey, the director, had was to make the viewer follow Anne's journey, whether you are a man or a woman. She wanted to cross the gender barrier. So I would ask you, as a man, what did you feel after following Anne through this journey? And what do you think you would have done at that time, if you were Anne's friend?
CC: How would you expect L'Evenement and Anne's character to resonate with women who grew up in the era?
AV: We received many intimate stories from women that went through the same obstacle course as Anne, especially after screenings. Some of them were very touching, I felt their pain but also in the way they delivered their testimonies.
CC: Silence sometimes says more than words. As Anne continues to be repressed, what were the challenges of portraying scenes of secrecy and alienation from society?
AV: We worked a lot on interior monologues for the silent scenes. Audrey and I decided on some words or sentences that I repeated to myself [in my head] while we were filming. The idea was to express her sense of emergency and alertness through her gaze. The further she goes, the more paranoid she is. The look she's searching for in the beginning, at the party for example…she wants to be seen, to dance, to feel desired…they slowly transform into a look of escape. Now, she's scared to be caught, so everything becomes more internal.
CC: How did Audrey Diwan prepare you for some of the more brutal and harrowing scenes later in the film?
AV: We didn't rehearse the scenes of physical pain. Audrey didn't want to mechanise them, and I like the idea of spontaneity, of the magic that only happens between "Action" and "Cut" – so, anticipating them would have made no sense to me. Arriving on set, I was so afraid of these scenes. I thought, "What if it doesn't work? What if I don't succeed in these crucial scenes? What if I disappoint Audrey?" I put so much pressure on my shoulders, but Audrey came to sweep them away. She guided the way I breathe. I remember once we worked in the mirror, she was standing in front of me and we were searching together. She also gave me the freedom to fail. We knew where we wanted to go, but not exactly how, so she gave me the space and time to search, try, dare without being scared of not succeeding.
CC: You've noted that French cinema in particular has great, complex roles for women. Having been recently cast in the Maria Schneider biopic, is there an intentional hunger to embrace tragic female characters, and where does this come from?
AV: Recently, I participated in an event with a journalist. He asks people in the film industry to choose their 10 favourite movie scenes and somebody noticed by the end that I often picked those in which women are angry. Among them were Viola Davis in Fences, Suzanne Clément in Laurence Anyways or Romy Schneider in L'important c'est d'aimer. I don't know if there's a reason for it, but I think I like to portray vulnerable women who urgently need to externalise their inner evils. This is most challenging to me: fighting an inner war, and like a soldier, staying focused on the objective. But also flinching at times and showing some fragility. I like the confrontation between strength and weakness.
CC: You won the Cesar for Most Promising Actress. Where do you find sanctuary and peace when you need to escape the spotlight?
AV: I read a quote from Marilyn Monroe that goes: "I restore myself when I'm alone. A career is born in public, talent in privacy." I enjoy being alone, nourishing my curiosity and imagination by listening to music, reading a book, stealing tips and mimicking the actresses I love when watching movies. I find peace when I feel fulfilled, when I have no doubts, when I'm confident. I am a practising Christian Orthodox so religion plays a big part in my search for inner peace. It gives me hope, and helps me realise that if God has allowed me to do this for ten years, it must certainly have meaning. It took me a while, but I've taught myself to accept that I'm in the right place. It also helps me find beauty and grace in small things. Smelling a flower, feeling the fresh air on my skin when I open the window in the morning, appreciating a smile, a laugh, a hug, a deep conversation, a good song, a tasty dish. All of this is precious.