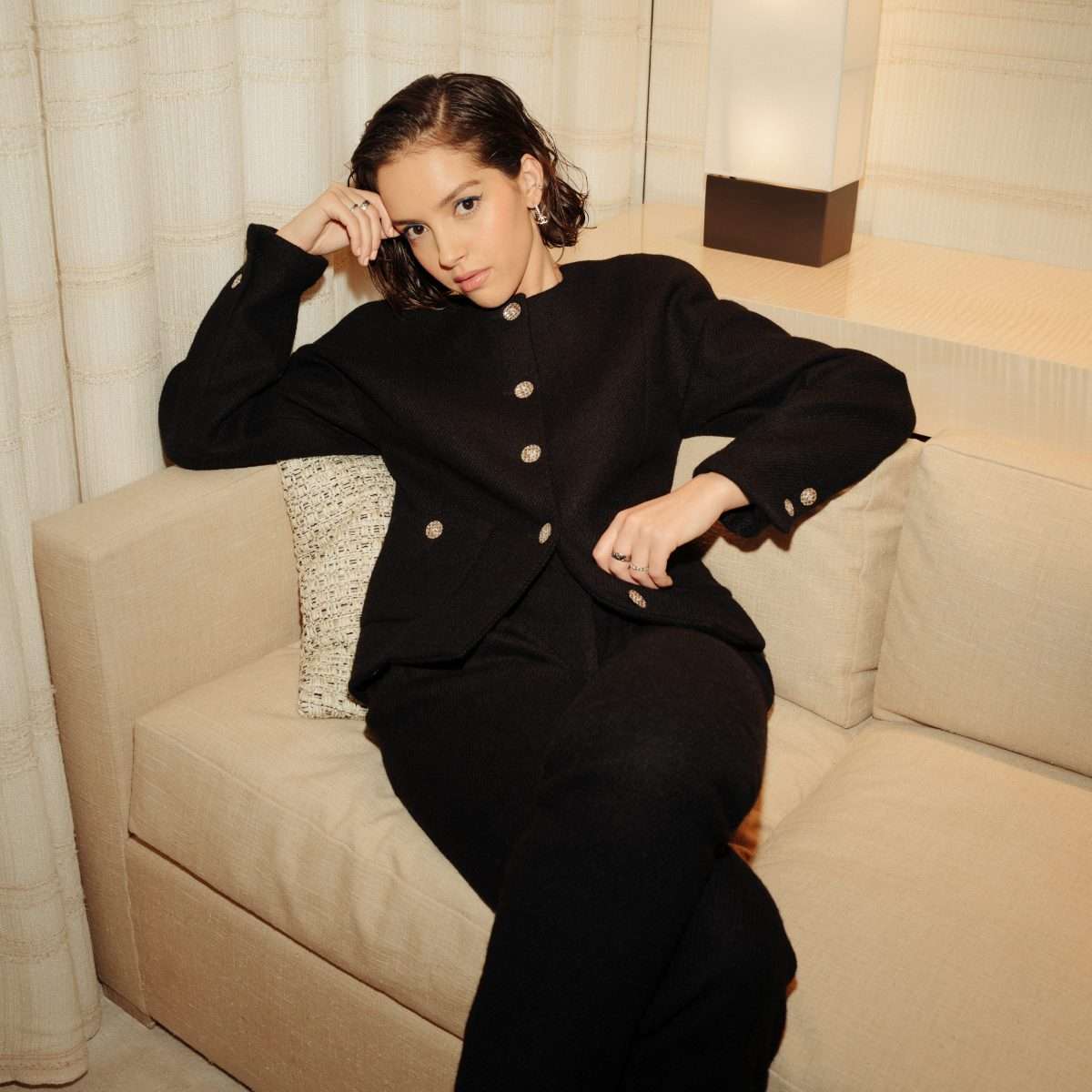 "Not a lot of actresses share my sort of past," Lyna Khoudri tells me, "So when I got the call for the role, I felt it was right to do it." The 29-year-old Algiers-born, Parisian-raised actress is discussing her part in Cédric Jimenez's much-anticipated Novembre, set around the 2015 terrorist attacks. For Lyna, whose family were exiled from Algiers to France during the Civil War, it brought up some uncomfortable memories. But her need to tell these difficult, somewhat personal, stories is actually the biggest factor in how she selects her projects: 2019's Papicha portrays the lives of women in 90s' Algiers, and Gagarin shows the struggles of the Parisian banlieues (similar to those in Aubervilliers where she grew up). For most people, however, Lyna is known for her role as the assertive, young activist Juliette in Wes Anderson's The French Dispatch. "You know," she laughs, reflecting on her body of work so far, "my friends have a nickname for me. It's Mrs. Justice."
With Novembre scheduled for release, we spent some time with Lyna to discuss Algerian cinema, future projects, and the influence of her father on her becoming an actress.
CC: Novembre explores an event that still feels so fresh. What sort of reaction do you think the film will have?
LK: It's a touchy subject in France, but I hope people want to understand that we're showing the realities of the investigation into the event. Cédric Jimenez, really did a lot of research. He told me about the sort of stories he uncovered, after speaking to the police who worked on this case. They then met the girl I play, who wrote a book called Witness. So, we tried to be as close to reality as possible. We made this movie not to explain, but to tell a story. I'm still not sure what kind of reaction people will have in France though.
CC: You play a diverse range of roles from Papicha, to French Dispatch, to Haute Couture. Do you have a personal process before approaching a character?
LK: There is always a connection, even if it's a tiny one – something which helps me to open up a way to enter a character's mind. Then I can explore. With The French Dispatch, for example, it was tough, because I'm just like Juliette, but I'm less impulsive. For Novembre, the connection is her taste for justice. So, I started there. People call me 'Mrs Justice' [laughs]. I think it comes from my father. He was a journalist who raised me to be very in touch with what's happening in the world. I was born in Algeria, so what took place in France with the attacks in Novembre reminds me of what we had in Algeria 20 years before. Not a lot of actresses have my sort of past, so when Cédric called, I understood it was tough to speak about themes of Islam, and I wanted to be involved in the film.
CC: You come from a creative family, can you tell me about your childhood – your journalist father and violinist mother?
LK: At first, I wanted to be a journalist like my father. I wanted to do everything to be like him. But he was also in love with cinema. I remember the film which inspired me to want to become an actress, L'Esquive, by Abdellatif Kechiche. I was on my way out to meet friends, and my father asked me to stay and watch it with him, which I did begrudgingly. I thought it would be boring, but I had a special moment while sitting through it…a surprise. The film's naturalist style made me say, "Wow… OK, this is what I want to commit my life to." So, in some ways, I owe my desire to act to my father.
CC: Can you tell me about the Algerian film industry? Is enough being done for representation?
LK: In 2021, I think there were only three or four Algerian movies, all of which I have seen. In France, we have the CNC, part of the Ministry of Culture, and Algeria had the same structure but they closed this year. No one knows why. There are some places in the world where culture is not a priority. But I think it should be the opposite: film can help people look at things in a new light. This is why there are more Algerian actors and filmmakers in French cinema, because in Algeria, there are so many steps to getting a movie made.
CC: Is there a story you would like to tell, or a role you would like to portray?
LK: I would love to try a biopic. It seems like a great challenge. Currently, three historical women have been haunting me: singer Juliette Greco for one. Alice Guy-Blaché, the first female cinematographer and assistant of the Lumieres brothers is another. We've only really been reflecting on her importance for a couple of years now. And thirdly, Suzanne Mallouk, remembered as Basquiat's partner. Her book and her story are amazing. After leaving Montreal, she met the artist in a New York bar, and they had this famous relationship; her father is from Palestine, too! Hopefully, I'll get to perform as these women.
CC: You're known for being selective with your work. Would you ever do another American film, for example?
LK: If I read a script and imagine myself in the role, I have to do it. Sometimes, it can be a good character, but I will feel that it is not right for me. I think this is instinctual. As for America, they make great movies, but we have our cinema in France and I love it here too. What happened with Wes in particular was that I admired his work and his special relationship with France. So, I found my place in that project. But I don't have the American dream; my dream is to do cinema all around the world, from Korea to Italy. When I see this years' Cannes selection, I am amazed – I can't imagine from Paris that people are making so much beautiful work so far away, and it offers a window to the world. That's the strength of cinema, and I would love to leave my own trace, or legacy, that will live on forever in this artform.