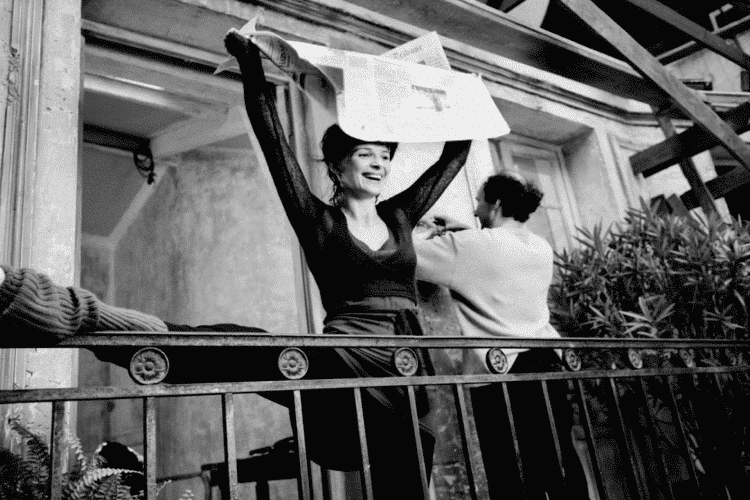 For all her glamour and all her glory, Juliette Binoche knows acting is bloody hard work.
"Don't tell me about tough working conditions," she chides. "Acting is never easy. It's not a safe place to be – it's an act of bravery. If you don't have courage as an actor, you can't go through with it."
An Oscar winner for The English Patient in 1997, Binoche has also completed that rare treble of actress wins at Berlin, Cannes and Venice. She is one of the biggest names in France and among the most respected of international actresses. But at the moment, from a plush hotel room in Paris, we're talking about Between Two Worlds, a film based on the findings of undercover journalist Florence Aubenas who took a series of cleaning jobs, in offices and on a ferry in a Normandy port town, to find out how precarious life was becoming for Europe's low-paid, gig economy workers.
Binoche spends much of the film in the strip-lit twilight of the night shift, donning apron and plastic gloves, wiping down surfaces, emptying bins, changing bedclothes and sweeping up rubbish. I know it's a performance but, still, it's not quite how you tend to picture one of the most luminous screen actresses of the last 30 years, one who's now looking fresh and at ease in five star comfort. Has she ever really got her hands dirty?
"I don't need to take a menial job to understand tough working conditions," she says. "Being an actor is hard enough."
For a moment, I think she might be joking. Surely, it's a bit of a risk comparing herself and her acting experiences to night-shift workers on a freezing cold boat, but she's as serious about it as can be. "If you're dealing with a director or another actor who's being difficult or perverse, I tell you it's the worst. You're opening your soul, laying bare your whole being and someone is giving you shit for it? I'm sorry, that's very hard."
She continues: "As actors we work in all conditions, in the hottest weather or the coldest, we go where the camera is, out in the street, wherever, and we have to learn line after line, and go through every emotion, from high to low, and give everything we have, every time and be at our best. I tell you, it's difficult."
Of course, she makes a persuasive case, just as she's been doing on screen since her breakthrough year in 1985, when she starred for Jean-Luc Godard in Je Vous Salue Marie (he cast her from a polaroid photo he'd spotted), for Jacques Doillon in La Vie de famille and, most sensationally, for Andre Techine in Rendez-vous opposite Lambert Wilson and Jean-Louis Trintignant.
Although she continued that success with Leos Carax's Mauvais Sang in 1986 (earning a Cesar nomination), her international reputation was secured just a year later, when she starred with Daniel Day Lewis in The Unbearable Lightness of Being.
Perhaps the most public on-set travails of her career came with Les Amants du Pont-Neuf, a dizzyingly romantic and expensive undertaking that eventually came out in 1991 and for which Binoche herself had to appeal to Government for extra funding as the original budget practically quadrupled to over 70 million francs, including recreating the titular Parisian bridge and stretches of the Seine in a town called Lansargues, near Montpellier, in the south of France.
"Sometimes, actors can put feelings to the side, but sometimes there is anger from the situation of the filming," says Binoche. But the days of long and troubled productions such as Les Amants du Pont-Neuf, are possibly over in the movies, perhaps never to be repeated.
"We are so pressed for time in film now, you don't even get to do a second take!" she remarks. "Although I love doing it quickly because it can feel more intuitive as a performer, but I was just shooting in Mississippi, playing a truck driver [in the forthcoming Paradise Highway, with Morgan Freeman] and it was hot and we had to shoot every day and every night, and there were mosquitos – it was exhausting and it puts you on edge. That can give the film a certain rawness or power but it's a lot of pressure."
On Between Two Worlds, she worked with a mainly non-professional cast, with actors taken from the real lives that director Emmanuel Carere was attempting to depict with authenticity. "He sort of left me in charge of the actors," recalled Binoche. "I love actors but it was also a big responsibility for me to look after them. There was one scene when my co-star Helene was so cold and so spent emotionally that I had to stop the shoot for the night, so we all went and got warm and regrouped and made sure Helen had the strength and emotional capacity to go again. I tell you, it can be very tough work."
Binoche's insistence on highlighting the hard graft of an actor's work could be viewed as ridiculous but the results of her commitment to her art are always on the screen, as well as her thoughtfulness around each character she picks, "I like to think you don't pick them," she says somewhat grandly. "They chose you." But doesn't she sometimes feel ill-equipped to play certain characters, ones so far removed from her own rarified life of stardom?
"Look, acting can be an ethical question, of course," she says. "Do I have the right to pretend to be somebody else from another layer of society? I do think about that every time, yes. But the purpose of a film is often very necessary. For example, to foster an understanding of our social crisis, about what it's like to be poor, to have a life in the balance, to show how the gap between rich and poor is so wide. I am very well-known but I know I have the right to play a role that shows what it's like to be invisible, overlooked, underpaid, barely surviving. My job is to get close to that life and recreate the truth of it."
She says has been approaching roles with an immersive sense of realism throughout her career. For Rendez-vous, she wasn't so well-known but says she often went into the streets to observe people. But even for her admired portrayal of Camille Claudel for director Bruno Dumont in 2013, the star spent time in asylums with handicapped and mentally impaired patients.
"I was observing, not cheating," she continues. "I don't live that life and it's not my reality but the truth of the feeling I have when I'm there, that is real. And so I go as close as I can to the people I'm playing in order for an audience to connect to that character. When I'm in front of the camera, I have to recreate a life into a form that reveals the truth of what I felt. That's what actors are there for, to be a link in consciousness, to bring out from inside of us what we feel in our thoughts and in our bodies."
Like every other actor and filmmaker, Binoche is being lured from the big screen to the world of TV. You feel she's doing so reluctantly but that the reality of the situation is swiftly overtaking. She'll be seen in HBO mini-series The Staircase with Colin Firth and Toni Colette, and she's playing Coco Chanel in series The New Look, opposite Ben Mendelsohn's Christian Dior. "On these TV shows, the quality is pretty close to film now, and actually, it's like a luxury," she reveals. "You get time to act and work but you also get time off, you can do several takes, so yes, things have changed very quickly, that's for sure."
She believes, however, that film is still where the risks lie and where the real power to affect audiences lies. "I will do experimental films and first films because when a film catches something important, with a truth, I still get inspired by it and that's what I need and want."
Her commitment and belief in the power of her work is admirable, as is the way she defends it so fiercely, and it's clear she still has great dreams for her career. I wouldn't say she's carried away by her own rhetoric and passionate defence of her job but she does take a breath before admitting clinging to the grandest of ideals.
"My big ambition is for film to re-humanise our society," she says, almost quietly, but with full conviction. "I'm very serious about that – it doesn't take a lot and for an audience to slow down for a few moments, to watch and notice and think about other lives, to be aware of their own daily selfishness, I think film has that power. Acting has that power. I think it can change people and it can still make a big difference to us all."
And that, ladies and gentlemen, is why we still believe in stories, still watch movies and still can't take our eyes off the screen whenever and wherever Juliette Binoche appears.