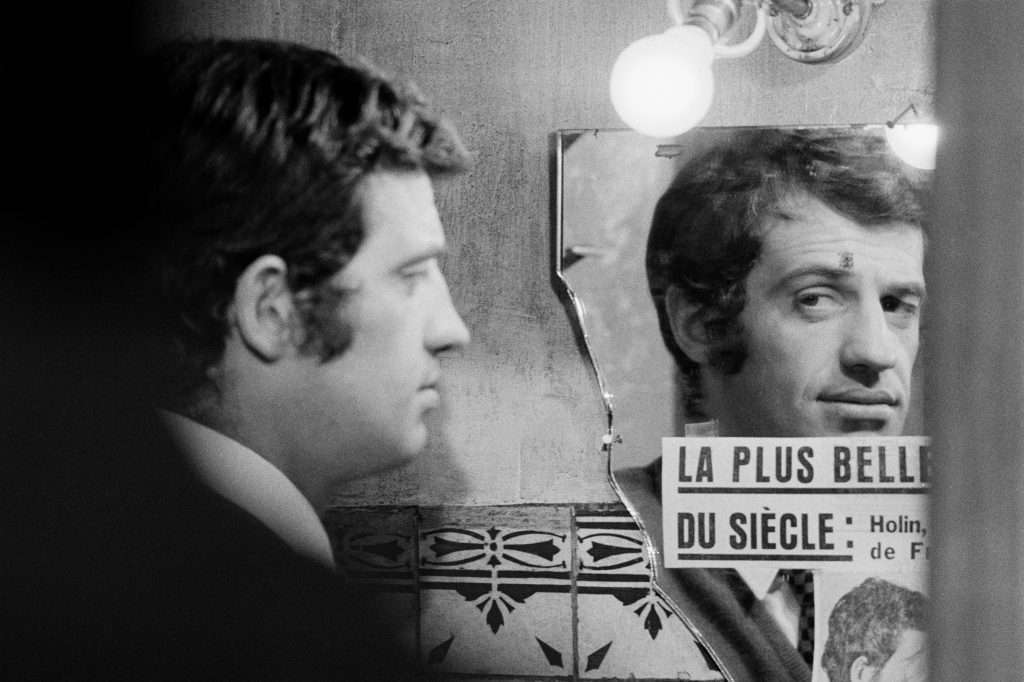 A young man wearing a hat, smoking a Gauloises cigarette (or perhaps a Gitanes), speaks to the camera:
"If you don't like the shore…
If you don't like the mountains…
If you don't like the city…
Then get stuffed!"
This is Jean-Paul Belmondo in À Bout de Souffle [Breathless], heralding the birth of the Nouvelle Vague.
I was 14 when I first saw Jean-Luc Godard's cult movie. It was in 1992. The film was a revelation, the sudden understanding that cinema is also an art form, and there and then, in my parent's front room, it also became a life-long passion.
It became odd reconciling the À Bout de Souffle version of the actor to the older Belmondo I had seen in popular movies on French TV. He often played a cop with large muscular arms, a wrinkled forehead and a gun as imposing as Dirty Harry's "most powerful handgun in the world." In À Bout de Souffle, he was younger and much cooler. We could already see his roguish smile and bumpy nose (the result of a fight in the school playground), but for me at the time, as was surely the case for the audience back in 1960, this is when Belmondo became an icon.
Together with the Man with No Name (Clint Eastwood again), Jean-Paul Belmondo is the reason I started smoking. It embodied an attitude, a style – trying to imitate the gestures, the body language, and even the words they used. Belmondo has always been so very charming. Dubbed the Gallic James Dean, he became one of the biggest French movie stars. He was affectionately nicknamed Bebel in France, where he became our most beloved and charismatic actor. We couldn't help but argue and compare him with Alain Delon. To me, it's irrelevant. Imagine that each time we talk about The Beatles one has to mention the Rolling Stones? Non, ça ne serait pas possible…
Soon after À Bout de Souffle, I discovered Pierrot Le Fou (Jean-Luc Godard, 1965), another non-conventional gangster movie where, like the leading character, we frequently lose the plot. But the mood, the tone, the texture, and everything else make Pierrot Le Fou a magical masterwork. Among the many cult scenes there is this memorable dialogue between Ferdinand (Jean-Paul Belmondo) and Marianne (Anna Karina).
Ferdinand: Why do you look so sad?
Marianne: Because you talk to me with words, and I look at you with feelings
Ferdinand: Conversation with you is impossible. You never have ideas, only feelings.
Marianne: That's not true! Feelings contain ideas!
Ferdinand: OK… Let's try to have a serious conversation. You tell me what you like, what you want… and I'll do the same. OK, you start.
Marianne: Flowers, animals, blue skies, the noise of music. I don't know… everything! What about you?
Ferdinand: Ambition, hope, the motion of things, accidents, uh… what else? Well, everything!
Then there is Le Doulos (1962) which remains one of the best film noirs ever made, by master of the genre, Jean-Pierre Melville. It's a tribute to the American crime movies of previous decades, with shadows, night scenes, trench coats, guns, tough guys, cigarettes, dames, cocktail bars, crooked cops and treachery. In Le Doulos (a slang term for "hat", but also doubles as "rat", in reference to snitches and paid informants) Belmondo plays a shady rogue. We're never sure which side he's on.
I appreciated Belmondo as a comic actor in L'Homme de Rio (Philippe de Broca, 1964) and Le Cerveau (Gérard Oury, 1969). I also loved his delivery of sharp dialogue, written by Michel Audiard, in Un singe en hiver (1962) and in Cent mille dollars au soleil (1964) by Henri Verneuil, in which he played alongside Lino Ventura and Bernard Blier. Belmondo had what we call "gouaille" in French, a cheeky, detached irreverence typical of the 1960s. Verneuil also directed Belmondo in Week-end à Zuydcoote (1964) in which he plays a French soldier lost in an empty village near Dunkirk, about to be taken by the German invading army.
Another film where he excels is the tragic Mississippi Mermaid (1969) by François Truffaut. He plays a tobacco planter, Louis, who decides to wed a mail-order bride. Although the woman who arrives off the ship, Julie (played by Catherine Deneuve), looks nothing like her picture, she's still gorgeous. Their marriage seems to be going fine until Julie empties his bank accounts and disappears. This should be the end of Louis' obsession, but he spots Julie in the south of France and falls under her spell once more. It's a story of betrayal and love (until death).
You are so beautiful, when I look at you it's painful
It was after these action-packed movies and box office hits, in which he performed his own stunts that Belmondo became Bebel. My favourite film of his late career is Itinéraire d'un enfant gâté by Claude Lelouch (1988). There is a beautiful scene where he teaches his son-in-law how to say "Bonjour."
You will learn how to say "Bonjour", it's the most important thing in life. If you know how to say "Hello", you've already gone half way.
In my twenties, I went to Antigua with my then girlfriend (now wife) and she showed me Jean-Paul's home by the sea. The place was called Half Moon Bay, if I remember correctly. I remember imagining my retired hero swimming in the gorgeous Caribbean sea, enjoying a life of pleasure.
It was a beautiful career for someone who began as a school drop-out and then an amateur boxer. In this short-lived career, he won 15 of his 23 bouts before giving up to concentrate on acting. After performing on stage in provincial theatres, his movie break came with the role of Laszlo in Marcel Carné's 1958 film Les tricheurs. He is now a monument of French cinema…
I never had the chance to meet him, but I did see him from afar on the red carpet in Cannes in 2011. It remains one of my best memories of the Festival. The icon who led a stellar career was given an honorary Palme d'Or that year. It was a major deal in Cannes, as the award is also a kind of consécration ultime. When Jean-Paul Belmondo arrived and started to walk on the red carpet, something unique happened: photographers laid down their cameras on the floor and erupted in applause. They stopped taking photos to pay tribute to an actor that means so much to us. It was just magnifique.
In the final scene of À Bout de Souffle, his character gets shot in the back. We know it's fatal, as we watch him run down a whole street, trying to flee, until falling to his death on the paved stones. Jean Seberg (and the audience) watch the mysterious expressions he pulls before he finally says: "Vous êtes vraiment une dégueulasse" and dies.
Qu'est-ce que c'est dégueulasse?