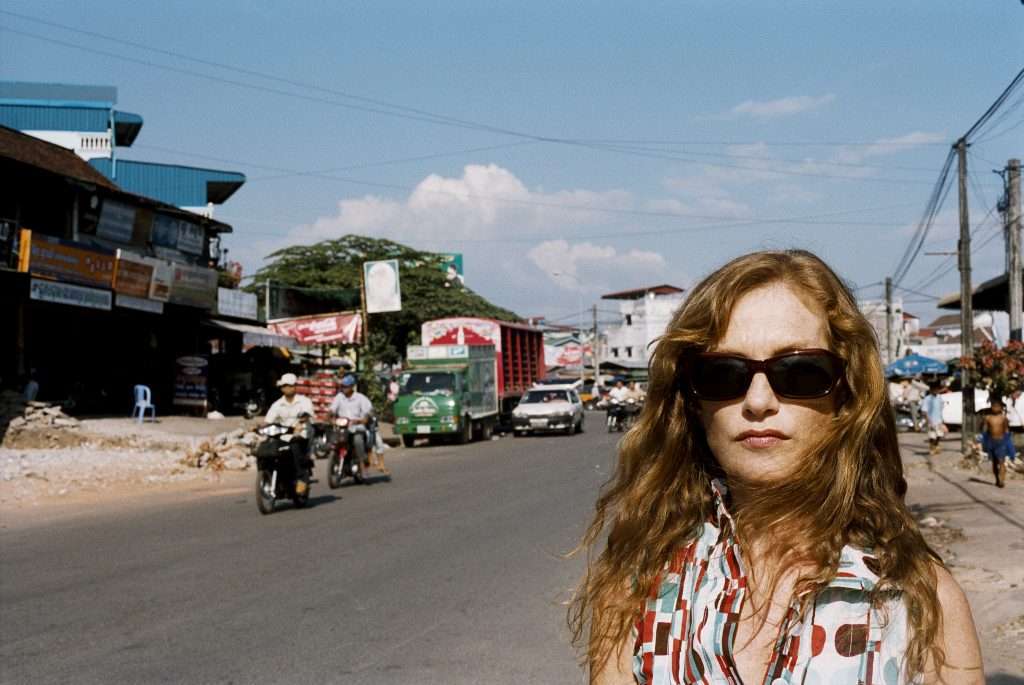 In just a few hours, she'll be going on stage in a touring production of The Cherry Orchard, something she's been doing every night in Geneva this past week after, of course, finishing the day's shoot on the set of her latest film, The Sitting Duck (La syndicaliste), directed by Jean-Pierre Salome with whom she had the recent hit French comedy Mamma Weed.
"I often regret that there are only 12 months in a year," she sighs. "I can't fit it all in."
Apart from being one of the best actresses in the world, she's also one of the busiest – something that was made fun of when she appeared in comedy show Call My Agent, a rare TV appearance for this acknowledged queen of film and theatre. Is it that she simply can't turn down a job?
"I'm very jealous," she says, and I can't tell if she's joking or not. "I can't understand it when a director who I've worked with and got on well with would go with any other actress than me. Why would they pick someone else?"
Her collaborations include repeat films with Michael Haneke, Claude Chabrol, Hong Sang Soo, Diane Kurys, Jean-Luc Godard, Benoit Jacquot, Wes Anderson, Claire Denis and Bertrand Tavernier and the list of awards and nominations is longer than anyone's: 23 films at Cannes (twice winning Best Actress), two Volpi Cups at Venice, a record 17 Cesar nominations (two wins) and, another record, seven Moliere nominations for stage work. Such statistics (98 wins from 155 nominations) are more usually employed to mark the career of a tennis champion or football legend but Huppert is as hungry for titles as ever.
She was distraught when a bout of COVID meant she could not attend the 2022 Berlin Film Festival in February, to pick up her honorary Golden Bear. "Je n'ai pas pu aller chercher mon Ours!" she wails. She couldn't go and get her Bear. Instead the trophy was delivered to her home in Paris. "It's a very beautiful thing, a lovely object and I love it," she says and it has duly taken its place in a vast cabinet where she keeps all her awards, spread out very carefully inside.
"It's true I do have a lot, but I'm very proud of all of them," she's quick to point out. "I love getting awards and I never have any contempt or indifference about this sort of thing– one should be grateful that your work and the people you work with are being appreciated. It's a very important outcome for the whole thing."
I can attest to her insatiable appetite for awards. In 2017, when I was still Chair of the London Film Critics' Circle, we offered her our prestigious Dilys Powell Award, a sort of lifetime achievement gong, for continued excellence in cinema, one of the rare occasions the award has not gone to a British artist.
Huppert generously made the Eurostar journey over to London to collect it, I did a presentation in her honour and showed clips from her career, and she in turn gave an elegant and typically intelligent acceptance speech and then stayed for the rest of the evening, meeting other winners and guests with perfect good humour and grace, posing for selfies and keeping her award with her at all times.
I said back then that watching her work was like admiring the artistry of a sculptor, because she builds layers of her characters and then strips them away and, I remarked, I often felt her characters were lucky to be played by her as she imbued them all with such intelligence and instinct. We think we know what her character is thinking, that we can read her – but we never really get to the end of the story.
I'd interviewed her several times before, including once at a particularly rainy Cannes when of course she surprised us all by saying how much she loved it when it rained on the nightly red carpet parade. "Oh, yes, because you have to improvise," she said. "And I love that, when all the familiar, choreographed steps have to be changed, that's when you get more creativity, more fun."
So it was a pleasure to reunite with her again, an actress whose list of credits include many of my favourite films of the past 40 years, from Les Valseuses, The Lacemaker and Loulou to Madame Bovary, La Ceremonie and Heaven's Gate, to The Piano Teacher, 8 Women, White Material, Amour and Elle.
JS: It's amazing that even with all these very distinctive and distinguished auteurs, so many of the films you've made are identifiable as Isabelle Huppert movies as those of the film maker.
IH: It's because movie making is a very special kind of collective work. The overall goal is that of the director ultimately, but I discovered very early on that the actor can pursue their own little dream within that. You have your own vision of what you do as an actor and it's very personal, too – so while you're part of a very special team, acting allows you to be individual, too.
JS: So do you start by considering how your own character can affect the universe of the movie?
IH: It is always my aim to only make films where I can put a strong personal imprint on my role. Yes, it's a collaboration of sorts, but I want to inhabit my character to such a point that it's my own creation. I appropriate the role so much that the audience starts to think it's me, Isabelle Huppert, but of course it's not, that's a huge lie, because none of these characters I play [are] ever like me at all. But of course, the great roles are the ones where the viewer comes across a character and begins to think they're a real person and, in the movies I'm in, this person happens to be me. So they're never 'Isabelle Huppert movies', they're films about a certain character but I'm always delighted if I've become that person utterly in the audience's eyes.
JS: Are you attracted to certain types of characters? They often seem to me quite lost in thought, in their own self-absorption, or caught in a mechanism of some kind?
IH: Yes. All my characters appear lost, but for me, they're not so lost actually. I'm glad I gave you this impression because that's what I'm thinking: how does my character find their way out of the trap they're caught in? They have to plot an escape from a situation in their own little way, but this little way is the best way to come to a victory in the end. That's what the film is always about in general – a character is in a problem and they find their own way out, to a birth, or a rebirth and to do it, they have to fight or struggle to escape. That's the drama of every film, so my job is just to figure my character's way out. That's what's going on in their head and my acting can then convey those thoughts and emotions.
JS: I wonder if, over the years of societal change, from the 1970s to now, you've seen any changes in the type of roles you've taken, in the way female roles are written and portrayed?
IH: No, no difference at all, my dear. [Isabelle tends to say 'my dear" when she's suffering a stupid question, a little 'tell' of irritation that this line of inquiry should stop]. As far as I'm concerned, I never had to fight to play great roles or to play smart, interesting women. Those are the only roles I would play, because that's how I play them. I don't say I'm lucky because I don't believe in luck. I'm 100% responsible for what happened: I don't want to resemble someone I am not, waiting for things to happen. I made my choices ever since I started acting, I got offered, or I created, great characters who were women. That's what I looked for and how I worked, so I don't even find it fascinating, my dear. It's the truth. Nothing has changed for me throughout my career, it's always the same.
JS: You do make it look effortless, although I'm sure it's not.
IH: It isn't very difficult for me. I have a very good ear: it's like music you know. You have to look for la note juste, the right note. When you hit it, you feel it and when you don't have it, you do it again until you do find it. Acting isn't a struggle, but it is very delicate work. Every spectator can spot someone acting, and that's what I would call over-acting and if you see it, it can ruin the whole film, you know, you can't watch the screen.
JS: I hate to ask but do you have a process that you rely on?
IH: My dear, acting is not a struggle. I usually get it on the first take, to be honest. But that might not be a good take for the cameraman, or the sound, or the lighting, you know, so you have to do it again. The important thing is that you're always acting with someone or something, so it's really all about finding the scene's tempo and rhythm. Each moment in acting is unique and what you're looking for is always how to relate to your partner as a person, not as a character. The tone you want is that of the truth, not the fiction. In cinema and theatre, you have to find this way to be real and unique in every moment. That is what excites me, how to be real each time, not to be inventing or imitating.
JS: After so many years and so many terrific films with such a list of great directors and co-stars, how do you still get excited, still want to make so many movies and appear on stages around the world?
IH: I feel there's a moment of magic whenever the camera starts rolling. It's that simple. And it's different every time. It's banal to say it, but the job of an actor it's just camera, action, cut, and you perform in front of the camera wherever it is, whatever time and location it is, whatever the context is. It's the same job, but you have to make each experience unique. I still feel it every time, so it feels like it's always the first time – a different story, character, crew, location, always different. You know, we don't work in a factory where you have to make the same movements every day.
JS: Are there certain things you need to help find the character sometimes? Something physical or a prop that reveals an aspect of their personality?
IH: Actually, for me, it is often the hair. Right now, I'm playing a role with a blonde wig and that makes me feel very different and that's helped me with the character. I mean it's not the whole thing, but I got there very quickly once I was performing under the wig. Hair is important. When I played Emma Bovary for Claude Chabrol (in 1991's Madame Bovary), people said I shouldn't take on this role because Emma has black hair. But that's not true – there's nowhere in the text that says what colour hair she should have. So I played a Madame Bovary with my own red hair, and it was absolutely fine, no?
JS: Tell me about working with Claude Chabrol? You did six films with him, so it was a long relationship.
IH: What I like was that Chabrol was not romantic. He was very pragmatic and wanted to show real events and people in the truth. There was no idealising with him and I found that I fitted that dry, honest view, so together we were not trying to make things better than they are. With him, it certainly wasn't an effort but he left me very much alone to find the role but it was almost natural, an instinctive thing for me to read those characters. All he'd say was that I didn't have to make them more smiling or sympathetic than they were.
JS: Emma Bovary was one of those characters. Is it hard to put a new angle on a classic character such as her?
IH: Bovary is so special, an iconic literary character and I think everybody can fit in that role and be her. Everyone has their own idea of her and I think that's deliberate – she has no really defined contours in the book, she's like a conceptual character. I think there were 8 previous versions of her on film before I did it and I'm sure there will be 8 more after me because there's always room for Emma Bovary, any time you want to reference boredom or talk about the frustration of female desire, or of unfulfilled dreams, you turn to Bovary. You know, I always said that I'd hope there were fewer Emma Bovary's around these days, that the situation for women would have improved and there would less need to tell her story, but I'm not so sure – you have so much domestic violence now and so many murders within the home. It dismays me that it's almost as if it's the tragic consequence of all those people who were able to fight and win the battles that Emma was trying to win for herself, too many women like that don't even get to commit suicide as Emma did, because they are being killed. I find this tragic.
JS: What does performing in different countries, surrounded by different languages bring to your acting?
IH: It keeps you alert, keeps it fresh. I have to listen more to the other actors, or respond to a new landscape. For example, I was filming in the Philippines with Brilliante Mendoza, and it was so amazing. The river, the forest, the mountains and the whole environment dictated how I played that character and I responded with a physicality that surprised me. It was a wonderful experience. Theatre is very rejuvenating which is why I always find time. This year, I'm doing The Glass Menagerie and The Cherry Orchard here in Geneva, and I'm going to Japan, to Avignon, to Lisbon and Paris and maybe New York, all for the theatre. I do love it.
JS: Do you wish you'd done more English-language films?
IH: No, my dear. Not at all. I'm a French actress, why would I want to do English? English is not the only language in cinema, you know. Cinema is a huge planet, you have German films, Italian films, Japanese films, Korean films, Polish films. I have done all of these and will take the chance if I get the opportunity to make as many different kinds of films as I can. That's why I say there aren't enough days in the year to do them all, and to do theatre.
JS: What was the first film you ever saw at the cinema?
IH: Oh, I love that question. My Fair Lady with Audrey Hepburn. I grew up in the suburbs of Paris but we came in to see it in one of the big cinemas, maybe on the Champs Elysees, I don't remember which exactly but I loved Audrey Hepburn. I also remember seeing something that affected me greatly, when I was a little girl, on the TV actually. It was a Russian film, The Cranes Are Flying, which won the Palme d'Or at Cannes in 1958 and then it was on the TV when I saw it and I can still remember every frame of that film, I was so transformed by it. Especially the ending, especially that last scene when she goes to the station to try and find her lover, and she walks on the platform and it's Tatiana Samoilova, the great Russian actress… he's wearing this white suit and she walks and walks and goes past the train and she realises he's not there, and she's crying and she then comes across this old man who tells her, "Oh my little one, you have to keep hope and you have to live, to live whatever happens" and suddenly her face transforms from tears to a smile.
…I was so little and I remember thinking to myself at that moment: "Oh my God, that's what an actress can do" because she gave us tears and a smile at the same time, and even as I'm telling you this, I can see the whole thing in my head…
JS: Do you think that all these performances that we watch somehow seep in and influence you as a performer?
IH: I would think so, yes. All the faces we see on screen, the potential of a face going from cloudy to sunny in an instant, that's the power of the camera, you know, to capture these slight little movements, the subtlety and changes of thoughts and mood in your face, that's the movie camera and that's screen acting.
JS: Is there anything in acting you wish you were better at?
IH: Oh I'd like to be able to sing and dance. You know, I loved Bob Fosse and his films and I knew him for a while, in New York and he was so generous. Oh my god, I would have loved to be in his movies, I loved All That Jazz and Cabaret but you have to be such a singer and dancer for that, and I don't have that in my skills. I think it's something in the Anglo-Saxon tradition, this ability to sing and dance as well as act. The Germans, too, they're very good at it. But it's a bit less obvious for us French. But I do admire it. I actually am pretty jealous of it and for me, it's a huge accomplishment for an actor to sing and dance beautifully. Whenever I go to Broadway and see a musical, I sit there in awe, total admiration.
JS: Well, I'm sure I'd love to see you in a musical. I can only think of Francois Ozon's 8 Women – I recall you singing in that?
IH: We all did, that was part of the joke. Maybe it was Ozon's joke on all of us, none were great singers really. We had fun doing it, but you couldn't say we were exactly Liza Minelli.
JS: You own a couple of cinemas in Paris now, don't you? Do you get to go to the movies very often?
IH: Well it's my son who really runs these theatres. They're very famous landmark repertory cinemas in Paris, you know, everyone has a connection with them in Paris. They were a chain called Action, and there were many of them, Action Lafayette, for example, I used to go to very often. But now there are just two, which used to be Action Christine and Action Ecole and we have bought them and refurbished them and they're called Christine Cinema Club and Ecole Cinema Club and we only screen classics, no new films. But they are doing quite well. So, I'm not pessimistic about streaming worlds and platforms – I still go to the movie theatre and sit in front of the big screen. I must say that sometimes, if I go to a 10pm seance in Paris, I might be the only one there and you think, oh God, is this the future? Will cinemas be archeological ruins in 50 years' time and I'm basically sitting in a ruin, like in Pompeii. But then the next day you go to an afternoon screening of a Marvel film and it's packed – so, cinema is still alive but it's only a certain kind of film that is under threat and fragile.
JS: You go and watch Marvel movies?
IH: Oh I'm a very good spectator, I go and see everything. I do go to my own cinema and we have some retrospectives of Japanese films and I have to admit that it's a nice feeling to go to your own cinema.
JS: Don't you find that going to the pictures is a romantic experience?
IH: I like to go alone, so it's not about romance in that respect. But if you mean it's an experience like reading a book or seeing a great painting, then I guess yes, it is romantic in that way, in that it's an experience. So if it's a strong and worthwhile experience, then that can only happen in the theatre, not at home on the sofa or on your mobile phone. No, for me, for it to work best, going to the cinema has to have a certain decorum about it, a mise-en-scene, and that's the darkness, the big screen, the whole process. Then it is always a memorable experience. And, as you say, yes, that is romantic, even when you're alone.
JS: What's your most memorable experience in a cinema, then?
IH: I would have to say the premiere of Heaven's Gate, in Manhattan in 1980. There was such expectation about this movie, such anticipation and we were all there, the whole cast, and huge crowd were coming to this big theatre (New York's Cinema 1 on 3rd Avenue). And because it was such a long film (219 mins), they put an intermission.
We were seated upstairs and we could see people were leaving early and then, after the intermission, three quarters of the theatre did not come back to their seats. Nobody drank the champagne. It was awful. We sat there, with our mouths open in disbelief that this was the reaction. I see now that this moment was a very historic moment really, because the rejection of the film was so much part of its story, its legacy, a key moment in the relationship between Hollywood and the artist, and the rejection of what Michael Cimino was trying to say with the film.
The next day we're at JFK airport and opened the New York Times and the review was from Vincent Canby saying "an unqualified disaster" and we flew to Canada still in a state of shock and showed it there and the reception was the same – a disaster. We were supposed to go to LA for the premiere there the day after but Michael cancelled everything and took the film out of theatres and went back into the editing room to start a new cut, and that's eventually the shorter version that ended up in Cannes six months later, but that didn't work out either really. But the disaster, the rejection, is now part of that story too, and, sadly, the story of poor Michael Cimino.
Now, of course I think it's a masterpiece and I'm proud to be in it and associated with it – I was proud then, too, and always loved the film, but of course it's very artistic, it makes no concession to audiences who might be expecting something else with a Western – it's poetic and political and I think people just couldn't bear this vision, it was so personal and there was no compromise and maybe the political content was too much? I don't think we'll ever know or understand. I didn't want to be in Hollywood much after that really, but I was so busy in France and Heaven's Gate didn't change the course of my life, not like it did for Michael Cimino.