Paris—Although extremely apologetic, Isabelle Adjani is slightly late. The problem is her cats, Rose and Lizzie. Their litter has to be changed. However, in spite of forgetting to reserve, Le Meurice hotel quickly arranges her favourite table. Not unlike the poetic and porcelain-skinned Adjani, it manages to be central, dramatic yet isolated from the crowd. In this instance, the other tables. When she appears, her eyes penetrate. Bright blue, they are kitten-like – flicking with countless emotions – suggesting childlike innocence, an enquiring mind and a mercurial personality. Ever since she exploded with Truffaut's The Story of Adèle H, the French actress has created a Garbo-like mystique and delivered Oscar-nominated tortured performances only to disappear then reappear. There have been hiccups, yet the phoenix-like Isabelle tends to return and surprise – proof that the soulful can be armed with an inner strength. Here, in flawless American English, she muses over her career and opens up about her latest projects.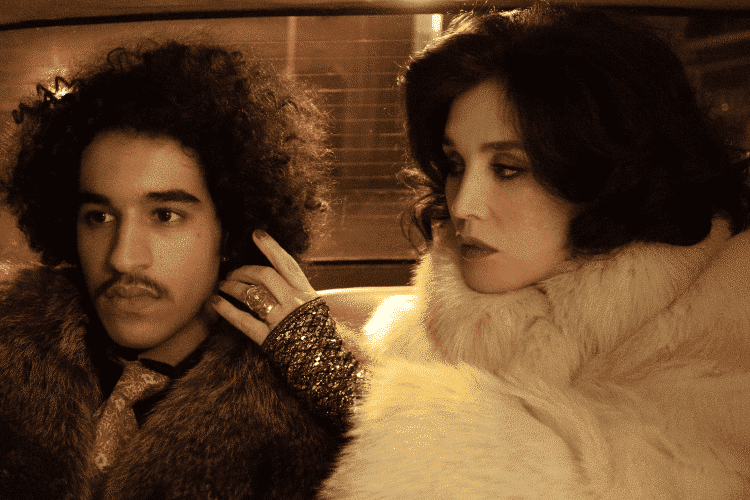 NAF: Isabelle, your biopic on Diane de Poitiers sounds amazing. How did it come about?
IA: Franc Joucla-Castillo – a friend, Bourbon expert and script doctor – kept on saying, "You must play Diane de Poitiers when you still can." I got in touch with the television director and producer Josée Dayan. Our idea was to do a novelistic version. Diane de Poitiers is an enigmatic figure, and some of her history remains vague. Working with the writer Didier Decoin we decided to highlight elements of her life that have been ignored. For instance, she was a liquid gold addict. Believing that it gave eternal youth, she drank potions of the stuff until overdosing to death.
NAF: Diane de Poitiers remains an enigma, and you've just played Marilyn on stage – both highly personal and highly enigmatic. Do you enjoy playing this role?
IA: That's how I've always been perceived: mysterious and enigmatic. When I was younger, it confused me. I would genuinely think, what are they referring to? I think they were mistaking my general reticence and shyness as being mysterious.
NAF: They were also experiencing the Adjani magic. I remember seeing L'Histoire d'Adèle H. and it threw me. Your performance eclipsed Alida Valli in Visconti's Senso. It was extraordinary.
IA: There are similarities. While we were shooting, and now that I've seen it, I do think François Truffaut would love Diane and I can't wait to receive a sign from wherever he is (smiling).
NAF: Adèle H reminded me of Truffaut's L'enfant sauvage.
IA: Oh my god, I loved that film and I see exactly what you mean. L'Adèle H was a stepping stone. Did you see La Chambre verte? It's so gloomy, sombre and tortured. I don't think that Truffaut ever expressed himself verbally about that visceral side of himself. I think he kept it secret.
NAF: How would you describe Truffaut?
IA: It was almost as if he was observing a young woman and was aware of what was awaiting me, career-wise, whereas I was unaware. With hindsight, there was an unspoken love in the air that I didn't want to approach in any way. I was nineteen. I felt as though I was a powerless witness to the pain he expressed in his diaries. In the evening, he would slip notes under my door. But I'm not the only actress that he did that to. He was known for doing that to actresses he was smitten with. Unfortunately, my mother, who was jealous, threw those notes and billet-doux away. And so, when I'm asked, do you have any correspondence from Truffaut, I have to reply that his notes are gone for good. Meeting François, and making this film, awoke a romantic stage in my art and heart [smiles].
NAF: Truffaut was almost like a soothsayer with you. I didn't feel that with all his other films.
IA: Actually, the film that he did afterwards was L'Argent de poche. Concerning children, Truffaut wanted to be free of any emotional attachment. He wanted humour and lightness. A case of, "Don't take me to a place where it hurts." It's funny because I remember his script woman Suzanne Schiffman was totally in love with him. I could tell that she didn't want François to be too smitten, nor did she want me to fall into that trap either. I've never said this to anyone. But in a very subtle way, Suzanne would tell me things like, "… you know, those two young actresses from Les Deux Anglaises et le Continent – François had an affair with one of them. She was devastated when the film and their romance ended…" Or she would say, "Catherine [Deneuve] had an affair with him and it sent her into a major depression and then Truffaut too" [laughs].
Her stories were meant to warn me against falling for Truffaut. I wasn't interested, and pretty scared because at the time, I'd only had one boyfriend. I also had this complicated, passionate relationship with my father, which set the terms for my future relationships. [My relationships] would be intense, painful and full of misunderstandings…oops!
NAF: When was his birthday?
IA: You mean my dad? January 8th – he was a Capricorn and my mother was a Virgo: a nightmare. They were judgemental and critical. A lot of, "you can't do that" went on. As a Cancer, I was their opposite.
NAF: You started your career at a very young age. Looking back, did it force you to grow up, mature, or see the world differently to your own generation?
IA: An early career did force me to miss out on some invaluable stages, and that became tricky for me. I wish that I had time to process it all and understand how the world operated. I've often said that I lacked the keys and the codes. I was so raw, and still affected from an upbringing that made me ill-at-ease with strangers.
NAF: After WWII, you were brought up in France by an Algerian father and a German mother. That's not easy.
IA: They were immigrants who were trying to conform and adapt. Both needed to be anchored by France and both lived in fear of being noticed and having fingers pointed at them. My sudden rise to fame saved me from a suffocating family atmosphere, because I had a brother Eric who didn't make it. It's very sad. I was blessed to be given a rare chance to express myself. I continue to believe that girls are stronger and more resilient than boys.
NAF: Did your sudden fame encourage a loss of innocence or a feeling of excitement?
IA: I managed not to lose my innocence. But I've always felt hurt by people trying to steal it from me. When I found myself attacked and disrespected, it made me feel vulnerable and scorched. During all those early years, my skin was incredibly reactive. I had eczema and all kinds of psychosomatic problems. A sign that I was inwardly screaming, saying, "Gimme a break. Don't attack my flesh."
NAF: You never had a nice agent or manager.
IA: My shrink told me years ago that I had been missing a protector and a shoulder to lean on. He said, "Someone should have protected your wings." It sounds so dramatic [laughs] but I'm now realising how incredibly lonely I've been.
NAF: Have the characters you've played shaped you in ways that have stayed with you forever?
IA: I always say that the conscious mind is not aware; that you're pretending and you're probably sending messages to your psyche that are being taken for real and being memorised. What I refer to as the memoire cellulaire. So, that's when fiction becomes the truth in you.
NAF: That sounds like the Isabelle method that you were able to combine with the Isabelle imagination. Let's talk about that.
IA: It's interesting. A part of you is being dispatched into those characters, something that you know how to activate through people you meet, internalising human observations of behaviour and all of that. It is very human, yet technical. It is also invasive. However, I don't overvalue it and it is up to me to detox.
NAF: How do you detox?
IA: I truly think it's by caring for your body, your spirit and your heart. Seriously, it will sound basic but through eating well and looking after yourself. In the past, wonderful actors did quite the opposite, drowning themselves in alcohol and drugs. Poor health without healing.
NAF: Your performance in Zulawski's Possession is monumental. Did it lead to self-destructive tendencies?
IA: I was still young enough to act in that film without realising how dangerous it could have been. It was a role that I could do in my late twenties but not afterwards. I felt as if someone had peeled off my skin. Possession sort of haunted me. Psychologically, I went to scary places where I shouldn't have gone. The director of photography was Bruno Nuytten who's the father of my first son, Barnabé, and years later also directed Camille Claudel.
NAF: You've noted that Camille Claudel was a personal favourite role, from a project of your own making.
IA: There was this book Une Femme – Camille Claudel written by Anne Delbée and I kept being offered copies of it. And I remember thinking, "why is this Camille coming my way? She needs me in some way." I wanted to restore and honour Camille Claudel's dignity. She had been treated in the most unfair and horrible way and – after my experience – I could fully understand that. She was incarcerated for thirty years and viewed as a disgrace to her family for being the mistress of Rodin and being a sculptress, dirtying her hands in clay. Camille Claudel broke all barriers and I felt very close to her. Actually, I needed her too. I just had gone through this appalling AIDS rumour experience.
NAF: An early case of false news. One newspaper even stated that you'd died. Didn't the rumours begin because you questioned the atrocious attitude toward immigration in France, and then revealed that your father was Algerian?
IA: There was no social media then, and I became this alienated person, once viewed as this perfectly ethnically French actress. It was crazy and very vicious. I'm going to say something I've never said: something so surreal it could be adapted for a television series. But it did happen. My brother had become a heroin addict and he got married to a model who was constantly mistaken for me. Put it this way, the Mayor who married them called her Isabelle in my presence. As a couple, they were doing lots of drugs in nightclubs, and she would pass out on the floor, and people mistook her for me quite often.
NAF: An early case of false news. One newspaper even stated that you'd died. Didn't the rumours begin because you questioned the atrocious attitude toward immigration in France, and then revealed that your father was Algerian?
IA: There was no social media then, and I became this alienated person, once viewed as this perfectly ethnically French actress. It was crazy and very vicious. I'm going to say something I've never said: something so surreal it could be adapted for a television series. But it did happen. My brother had become a heroin addict and he got married to a model who was constantly mistaken for me. Put it this way, the Mayor who married them called her Isabelle in my presence. As a couple, they were doing lots of drugs in nightclubs, and she would pass out on the floor, and people mistook her for me quite often.
NAF: A case of mistaken identity.
IA: That was really nuts. At the time, I was in a relationship with Warren Beatty in Los Angeles. I was going out with a man who wanted to settle down, marry and have children, as opposed to Warren Beatty the Womaniser. Obviously, that makes a difference. I was suffering from terrible allergies and getting antihistamine shots. Almost every day, Warren drove me to this medical centre. We had no idea that we were being tailed by two of the worst, most aggressive Paparazzi. Because of this daily routine, they reported as though it was proof that I was dangerously sick. They helped contribute to this AIDS rumour that lasted 9 months. This led to my television appearance on the French news, announcing that I didn't have AIDS. It was humiliating. I had such compassion for AIDS victims, but I had to do it. One newspaper even announced my death. Afterwards, I realised that people believe what they want to believe. I had endless AIDS tests. But even my own mother doubted my situation. Everyone was contaminated by this collective psychosis and I was the only sane person. Producers hesitated to hire me because of these rumours. I had to wait it out. It was as if I became invisible. It was a real moment in my life that could have easily been invented in fiction.
NAF: You felt rubbed out by that rumour.
IA: Seriously, after everything I've been through in my life, I should have become a drug addict or alcoholic. But I'm a force of nature [laughs].
NAF: Sisters (2021) is about three generations of French Algerian women. Considering your roots, was there a personal urgency in doing this film?
IA: The director Yamina Benguigui has been a friend for a long time. She wanted to tell her family story and she always said, "If I make that happen, will you agree to play me?" And I agreed. The film was going to be improvised and I was fine with that format.
NAF: Did certain scenes remind you of your childhood?
IA: I was reminded how humiliation is a very important element of Algerian culture. I remembered my naked scenes in L'Eté meurtrier (1983). I wanted to stay loyal to Sébastien Japrisot's novel, but it was a huge effort to do that. My father died before he got to see the film. I felt: "Thank god, he's not going to see it."
NAF: You have a publicised reputation for being an illusive genius, who disappears from the industry at various times.
IA: Logically, I should have done films back-to-back throughout my career. I didn't because I split myself looking after my parents and my brother, who were seriously ill. Their health issues were ongoing throughout my career. I was always told, you're taking a great risk not maintaining your presence on the screen. But I didn't care. There were also the private relationships in my life. For me, love and work didn't go well together. Not making the relationships that I cared for work induced episodes of deep depression. I healed whatever needed to be healed.
NAF: I'm sensing that you're waking up to a new Isabelle. Do you have any regrets?
IA: I've turned down amazing films, and really dislike this feeling of what could have been. So many films come to mind. I remember Adrian Lyne offered me both 8 ½ Weeks and Fatal Attraction around the same time as Camille Claudel. The list of films I've turned down is so ridiculously long, that I'm not even going to go there [laughs].
NAF: In a world that seems ever more cynical, where do you find the strength to continue making art?
IA: I've come to terms with the fact that I do what I want to do, without guilt. I think that I have a few more years. Five or ten…Who knows how many?
NAF: How about twenty?
IA: [Bursts out laughing]. That's too much. There are still other things I want to do and won't give up on, because I have spent so much time being an actress.
NAF: Why should you retire? Aren't actresses like authors?
IA: At some point, I won't want to be bothered by all the trivial sides of being an actress any more. But I'll never be blasé. It depends on the project, the director's interest, and the acting partner. There has to be magic. What keeps me going is believing in the excitement. I am thinking of the father of my second son, Gabriel Kane: How Daniel [Day Lewis] retired… and after three Oscars, why not?
NAF: You haven't made many films in the United States. Why is that?
IA: I remember this Hollywood agent who said, "Isabelle hasn't decided to become a star in America, yet." It was up to me. When I had my second child, Gabriel Kane, I was so incredibly distraught by the breakup with his father, yet I accepted to star in Jeremiah Chechik's Diabolique, opposite Sharon Stone. It was a remake of Clouzot's classic. I expected a more feminist perspective from Chechik, but that wasn't the outcome. I was on set, doing my work as a professional, but my heart wasn't in it. I remember watching Sharon Stone being very in charge, in control, and my feeling was sinking into passivity. I was still feeding my baby and there was so much grief within my soul. Being so broken by the experience forced me to check out and put my career on hold. I stopped having an American agent.
NAF: What's exciting about America or Hollywood is that it changes all the time.
IA: True. I'm thinking about working in the US again. Before it was impossible to be an European actress there, particularly French, and have many opportunities. When I got my Oscar nominations for The Story of Adèle H. and Camille Claudel, it was quite different. But to quote Diane de Poitiers, "Time is not a problem for me." And I've decided the same thing. Time is not a problem for me [laughs].
NAF: Do you have ambitions to direct?
IA: I have no answer, except that I am slowly working towards that. If anything, I'd like to direct with someone: an accomplice. I don't want to be on my own. I've been too solitary in my life. Nevertheless, I'd love to work with a few incredible directors. I admire the work of Paul Thomas Anderson. The way he films the scenes and films the actors. It's the elegance and the insightfulness. Some directors just know. Personally, I am cautious of the sentence, "Trust me, I really know what's best for you." You have to feel trust.
NAF: You must have felt that with the director Patrice Chéreau on La Reine Margot. Having been an extra on that film, I witnessed Virna Lisi comforting you and it was moving to watch. Let's talk about how actresses can protect each other?
IA: I've noticed that Anglo-Saxon actresses are nicer to each other. In France, there's a sense that you could be a rival. I love solidarity and the notion of sisterhood and caring. There are two things that are totally forbidden in my life: jealousy and envy. It's like there's no way, even if I'm tempted. Virna Lisi had a career as this beautiful, sexy Italian actress and she was ready to experience something that was entirely different. I hope that I'm like that with younger actresses. It feels great to be there for them. When Lisi got best actress at Cannes, certain people said that I should have got the award instead of her. I remember thinking, "What's wrong with you?"
NAF: 'What's wrong with you?' is an expression that's often used regarding the #metoo movement…
IA: Yeah, right. People say "enough with the #metoo movement" but it's not enough. It's important to speak out, not be ashamed and feel suicidal because you might be rejected. I feel that #metoo helped me as well. Like most women, I've had bad experiences. Some things are still locked inside.
NAF: Perhaps #metoo made you realise you were right to doubt certain things. In the 80s and 90s, a lot of 'you're being silly' went on. But #metoo proves you were right to question certain behaviour.
IA: I think that's right. A lot of self-denial went on, in order to protect yourself. #Metoo has made such a difference. I wish that it happened a few decades ago…